A simple glow plug driver for model engines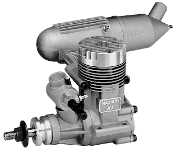 Back to Stefan's Some technical projects page
---
A glow plug driver
A simple and free glow plug driver to start model engines with methanol
type fuel (with castor or synthetic oil).
Designed by Stefan Spännare. Latest update 1998-04-08.
Circuit layout: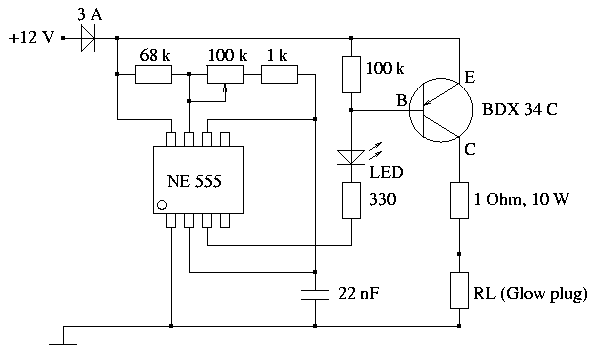 Oscilloscope view of signal:
Red: Voltage over glow plug. Blue: Voltage over 1 Ohm resistor.
Max current: 4.5 V / 1.0 Ohm = 4.5 A. Frequency 450 Hz.

Advantages
Very good glowing and starting properties.
Works with all 1.5 V and 2 V glow plugs.
The glow intensity of the glow plug can be adjusted with the potentiometer.
Should be powered from a 12 V (starter) accumulator.
Switched operation (low power consumption).
Survives temporary glow plug short circuit.
Survives reversed polarity.
Very easy to build.
Very cheap.

Disadvantages
The glow current can not be easily measured because of the switching.
Check the glow intensity with an unscrewed glow plug.
Can not be used with normal small power supplies (only with accumulators)
due to high (5 A) transient currents.
Instructions
Be careful to not short circuit the accumulator when testing.
The glow plug driver can easily be built on a normal laboration card.
The function can be tested with a car lamp (12 V, 50 W) as "glow plug".
The IC (NE 555) is a timer circuit, here used as switching oscillator.
The transistor (BDX 34 C, Darlington) must have a small heatsink.
The large diode must survive a current of at least 3 A on average.
The LED (Light Emitting Diode) is of standard (20 mA) type.
All resistors in Ohm or k Ohm (1 k means 1 kilo Ohm = 1000 Ohm).
The potentiometer and small resistors must be of at least 0.25 W type.
The 100 k Ohm potentiometer is of linear type.
The large 1 Ohm resistor must survive 10 W (or at least more than 5 W).
The capacitor is given in nF (nano Farad).
The cables to the diod, transistor, 1 Ohm resistor and the glow plug
should be quite thick (0.75 mm²) due to high (5 A) transient currents.
---
Author: Stefan Spännare
E-mail: stefan@NOspaennareSPAM.se (Please remove NO and SPAM before sending)
Latest update: 2006-03-12